---
8th ATTACK SQUADRON ASSOCIATION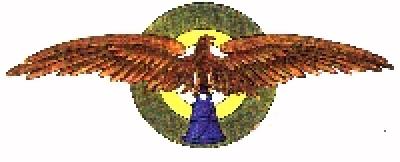 ---
8th Aero Squadron (1917-1921)
8th Squadron (1921-1923)
8th Attack Squadron (1923-1939)
8th Bombardment Squadron (Light) (1939-1942)
8th Bombardment Squadron (Dive) (1942-1943)
8th Bombardment Squadron (Light) (1943)
8th Bombardment Squadron, Light (1944-1951)
8th Bombardment Squadron (L-NI) (1951-1952)

8th Aero Squadron insignia
Approved February 14, 1924 (8401 A.C.)

---

8th Bombardment Squadron (L-NI) (1953-1955)
8th Bombardment Squadron (Tactical) (1955-1969)
8th Attack Squadron (1969-1970)
8th Special Operations Squadron (1970-1972)
8th Fighter Squadron (1972-1974)

8th Bomb Squadron insignia
Approved June 21, 1954 (KE 8387)

---

8th Special Operations Squadron (1974-Present)

On a Yellow disc within a Blue band,
edged with a narrow White border, a stylized climbing bird,
which is entirely Black.
MOTTO: BLACK BIRDS.
Approved on 19 Jul 1993

---

8th ATTACK SQUADRON ASSOCIATION

---
---
---

Thank you for stopping by.
Please sign our guestbook.
Tell us what you think of our pages.


The 8th Attack Squadron Association Guestbook
---
---
NOTE: Historical pages are Graphics Intensive and may have long load times. All pages on this site are optimized for Internet Explorer at 800X600. Though the pages load on Netscape, midi music may be fuzzy and java scripts for playing songs do not operate properly.
For Free Java Download from Sun Systems Click here.
---
For inputs or comments, contact Kalani O'Sullivan.
NOTICE/DISCLAIMER: The content of this page is unofficial and the views and opinions expressed do not necessarily reflect those of anyone associated with this page or any of those linked from this site. All opinions are those of the writer and are intended for entertainment purposes only. Links to other web pages are provided for convenience and do not, in any way, constitute an endorsement of the linked pages or any commercial or private issues or products presented there.


---
Copyright 2003 - All Rights Reserved
email to: kalani@hanvit.com
---
FastCounter by bCentral